Linda Forbes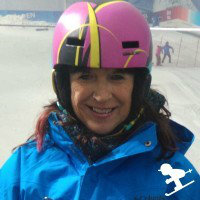 What skill do you teach? Skiing
What qualification do you have? CSIA Level 2 Teach, BASI Advanced
When was your first Snowsports experience and where? Trying to ski in home made waterproofs and jeans in Italy on a university trip to Italy then promptly fainting through exhaustion. Not to be recommended!
What's the best thing about being an instructor at The Snow Centre? Having the privilege of being part of a wonderful team, sharing my love of Snowsports and ensuring that I make my lessons inclusive to everyone, old, young, those with disabilities, thus sharing that pleasure in their success and achievement.
One single tip you would give to anyone taking part in Snowsports… It's inclusive! Absolutely anyone can achieve success in snowsports but always have lessons to ensure that you do! ( I learned that from experience!!)
Funniest Snowsports memory? When I fell coming off a lift in Val D' Isère and my friend on the chair behind, in trying to avoid me, skied into the pisteur, who was paying absolutely no attention reading his paper in the little hut at the top of of slope and was unexpectedly knocked off his stool. We were all incredibly amused, the pisteur was not! We did learn some new unrepeatable French vocabulary!