Lillie Hanson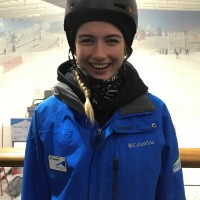 What skill do you teach? Skiing, and also some adaptive lessons.
What qualifications do you have? BASI level 2 in alpine skiing and BASI level 1 in adaptive skiing.
What languages can you teach in? French and Swedish...and English on a good day 😉
When was your first snowsports experience and where? My first skiing experience was aged 4 on the windy slopes of Cairngorm Mountain in Scotland.
What's the best thing about being an instructor at The Snow Centre? Never having to ski in the rain! The people are also pretty great...
One single tip you would give to anyone taking part in snowsports… Don't give up!
Best snowsports memory? Boot packing up the La Dent mountain in Nendaz, Switzerland and then skiing down in waist-deep, untouched powder with my friends.