Laurie Booton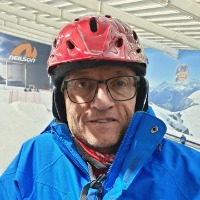 What Skill do you teach? Alpine skiing.
What qualifications do you have? BASI 1, IASI 2 (Alpine skiing)
What was your first snow sports experience? I was moved to Ottawa , Canada, in 1987, for work. What do you do in the winter there? Skiing. Tried it, loved it and haven't looked back. You could ski just the other side of the Ottawa River, in Quebec.
What's the best thing about being an instructor at the Snow Centre? Working with my fellow instructors and teaching the guests and having fun with everyone. It's just such a great place to be.
One single tip you would give anyone taking part in snow sports... Learn as much as you can in the in the Snow Centre, before you try in the mountains. Then, repeat the process. Remember, all the instructors have lessons at the Snow Centre!
Best Snowsports memory... Skiing The Snow Ghosts of Big White, Canada. Google it, it's amazing!