Kevin Spicer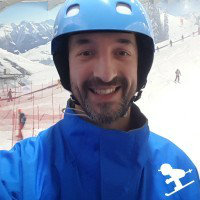 What skill do you teach? Skiing
What qualification do you have? BASI Alpine Level 2
When was your first Snowsports experience and where? I first tried skiing in July 2014, at the age of 41, when I swapped an unwanted tank driving experience day for ski lessons on a rolling slope. I was hooked from the first turn. I now have a house full of ski kit and a wife who is thankful there isn't a tank on the drive.
What's the best thing about being an instructor at The Snow Centre? The people! A great supportive team.
One single tip you would give to anyone taking part in Snowsports… Keep smiling, it really does help. Celebrate your successes and laugh off your failures.
Best Snowsports memory? The first time I tried to learn to ski moguls on a mountain. I was very proud that I was the only skier in my group to make it from top to bottom of the run without bottling out and returning to the groomed run alongside. I was less proud that I had descended a good chunk of it on my face rather than my skis. Oops!