Keith Maidlow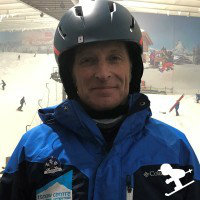 What skill do you teach? Alpine skiing
What qualification(s) do you have? BASI Level 1
What languages can you teach in? English & French
When was your first Snowsports experience and where? On a school ski trip to France
What's the best thing about being an instructor at The Snow Centre? I love sharing my passion for this wonderful sport with my guests it is truly an honour watching clients progress from being complete beginners and having their first taste of skiing then watching them advance onto the main slope with all the fun and technique that brings , it really is great to teach in a safe and friendly environment and I have to give a big shout out for The Snow Centre team from contact centre team, to kitting out and slope patrol, everyone is simply great and go beyond what is required to assist the instructors and make the guest experience so enjoyable and memorable.
One single tip you would give to anyone taking part in Snowsports… Please relax and enjoy it ....you really are in safe hands and in a good place to learn and develop - a sense of achievement is guaranteed.
Best Snowsports memory... I am truly blessed to have so many memories in this wonderful sport , so many blissful days skiing on and off piste high up in France then there is the après ski with a few glasses of wine sitting by a roaring fire recounting the days adventures , but I have to say seeing children develop into mini wonders is simply the best feeling and awesome to watch.