Jez Dodd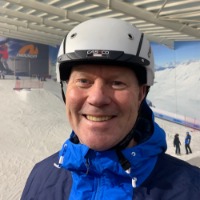 What skill do you teach? Skiing
What qualification(s) do you have? IASI Level 2 instructor
What languages can you teach in? Italian, French and hopefully English!
When was your first Snowsports experience and where? Aviemore Centre dry slope in the late '70s and Forni di Sopra in Italy not long afterwards.
What's the best thing about being an instructor at The Snow Centre? Being able to share my passion with so many people.
One single tip you would give to anyone taking part in Snowsports… Try to match speed with ability… if in doubt take a lesson 😊
Best Snowsports memory? Ski touring, away from lifts and crowds, with a guide and small group.