Jack Kelly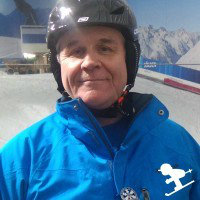 What skill do you teach? Alpine Skiing
What qualification do you have? BASI Alpine L2
When was your first Snowsports experience and where? A 2 week trip to Cervinia, Italy in 1987, Paulo was my Ski Instructor.
What's the best thing about being an instructor at The Snow Centre? Helping others to discover their personal skiing Mojo.
One single tip you would give to anyone taking part in Snowsports… Persevere, you will get there!
Best/funniest Snowsports memory? Too many, but Snowblading in Val d'Isere made others laugh on day one. However, Snowblade claim to fame: I never stacked in that week of continuous development!