Greg Patterson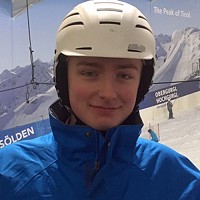 What skill do you teach? Skiing
What qualification do you have? IASI Level 1 Alpine Ski Instructor and working towards a level 2 qualification
What was your first Snowsports experience and where? I started my skiing journey when I was 12 years old, I had lessons at The Snow Centre. It was all in preparation for a family ski holiday.
What's the best thing about being an instructor at The Snow Centre? The positive atmosphere as the whole team working with each other to produce a great experience for our clients. Teaching people how to ski is a true honour, I love to see the progression and how people grow in confidence and skill.
One single tip you would give to anyone taking part in Snowsports? Take it in step by step and it is always about learning and having fun.
Funniest Snowsports memory? My older brother asking, after a week of skiing, "have you fallen over yet?" and I replied "No". At which he pushed me over into deep snow