Graham Guy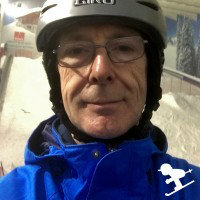 What skill do you teach? Skiing
What qualification do you have? BASI Level 1 Alpine Skiing
When was your first Snowsports experience and where? On a school trip when I was 12, in Scotland at what later became the Lecht Centre. Absolutely LOVED it – and still do!! Check out the skis on the walls in the Lodge and you will get an idea of the equipment I started on. I spent the rest of my school life working evenings and weekend to fund ski trips.
What's the best thing about being an instructor at The Snow Centre? Being able to share my passion for skiing with guests. What could possibly be better than helping guest to experience the thrill of skiing, and come to love it too? And to do it in an environment where all the teams (on and off the snow) do everything they can to support is just fantastic.
One single tip you would give to anyone taking part in Snowsports… Relax and enjoy it – and if you are prepared to venture a little outside your comfort zone it will only increase the fun, and sense of achievement – guaranteed! You can do it.
Best/funniest Snowsports memory? So many years, and so many incredible memories. But my best memory is without doubt helping my 3 year old grand-daughter take her first runs on skis in Seefeld (Austria) in March 2018. She LOVED it, and the pleasure it gave to me can't be translated into words.