David Stern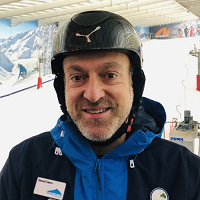 What skill do you teach? Alpine Skiing
What qualification do you have? BASI Level 1 and IASI Level 2
What was your first Snowsports experience and where? Ski trips with my school, when aged 8 or 9, to a tiny village in Austria called Trins - I've never heard of it since!
What's the best thing about being an instructor at The Snow Centre? Sharing my passion for skiing. If the client/group says they really enjoyed the lesson, and felt they progressed, then I'm happy
One single tip you would give to anyone taking part in Snowsports… Remember that it's supposed to be fun! And be patient - it's not all going to 'work' when you're trying something new (OK, so that was two things, but hey...)
Funniest Snowsports memory? Getting up on stage with a band in Val-d'Isère on my birthday, and singing Oasis "Don't look back in anger". I'm sure I sounded exactly like Noel Gallagher, but there may have been alcohol involved, so I can't be 100% sure...