Madi Rowlands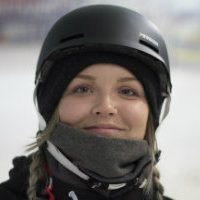 About Madi…
I'm a 17-year-old professional freeskier. In 2016, when I was 15 years old, I was fortunate enough to make history, when I became Team GB's first on snow Winter Youth Olympic Games medallist with a gold in the ladies' halfpipe event at Lillehammer.
How Madi got into skiing...
My family have always been keen skiers; so as soon as I could walk they put me on a little strap on skis and they haven't been able to stop me since! After that I followed my brother through the park and everything just carried on from there.
Madi's time at The Snow Centre...
I love going to the Friday Freestyle Sessions at The Snow centre, as its always a good set up and I love skiing with all my friends too.
Come & ski with Madi...
You'll usually find me on the slopes hitting the rail lines and having fun!
Madi's top tip…
My advice is to just have fun with skiing, as there's no wrong way to learn and there's always coaches on hand on Friday nights at The Snow Centre!