Jamie Nicholls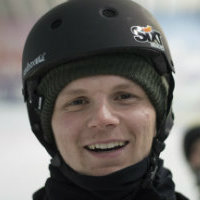 About Jamie...
I am a professional snowboarder from Yorkshire. Famous things from Yorkshire include Yorkshire Tea, Yorkshire puddings and the writings of the Brontë sisters, and I like all of these (Well, the first two at least). I represented Team GB in Sochi's, Winter Olympics 2014 and came 6th in the final. I also became the first British male to win a snowboard world cup in 2016.
How Jamie got into snowsports...
I grew up near a dry slope and had my first taste of snowboarding at the age of 7. By age 9, I could already do front flips and backside 900s. A few years later an indoor snow centre opened near Leeds and the rail set ups provided the other half of my youth training. Yorkshire unleashed me on the rest of the World back in 2009. Since then I have travelled the globe shredding big air, slopestyle and rail contests, and I moved to Hemel Hempstead to be near The Snow Centre for summer training.
Jamie's time at The Snow Centre...
I love coming to The Snow Centre as the atmosphere is amazing, the people are great and you will always have fun no matter what. Great place to be!
Come & snowboard with Jamie...
I love summer Freestyle nights at The Snow Centre the best, all the rails and jumps are out and everyone comes to ride freestyle. All my friends are there, and it's just so much fun. It's also great to see how much new talent there is around too!
Jamie's advice...
My top tip is just too always have fun enjoy the time on snow with your friends and just try to progress in the safest possible way!