Callum Welch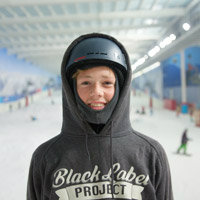 About Callum...
Hey Guys! My Name is Callum Welch and I'm a sponsored rider at The Snow Centre. Along with being fortunate enough to be part of TSC's freestyle team, I also ride for EXTREME, Finest Hour Clothing, Surfanic, Shred Optics, The Rob George Foundation and Heir Audio. I have gained many competition results, including being current British Champion, and a few film segments however I would have to say my biggest achievement would be becoming the first person to land a Flatspin 180. This trick generated over 160,000 views and gave me the best feeling of my life… so far.
How Callum got into Snowsports...
I learnt to ski when I was six when the Hemel ski centre was still a dry slope and from then on I was hooked! I went on family ski holidays once or twice a year, but didn't discover my love for freestyle skiing until The Snow Centre freestyle nights started. My brother started to go and it looked pretty cool so I thought I'd give it a try. I started off just cruising around on a Friday with a few friends and then at the age of 13 I decided I wanted to peruse skiing as a profession as well as a hobby.
Callum's time at The Snow Centre...
I've spent the majority of my Thursdays and Fridays down at The Snow Centre since the age of 13 and I never get bored of it! As you go down there more often you become friends with everybody there which is a bonus, because you can then go for the social factor as well as the enjoyment of the skiing itself. Thursday sessions can come in very handy when attempting new tricks, beginner or pro, as it is a simpler setup than a Friday session. I'd advise a beginner to go down on a Thursday until they get the fundamentals in place, then progress to a Friday night. Friday nights are still as relaxed as Thursdays, but riders do the tricks they've learnt on Thursdays on Friday's bigger features. It's great to see so many people riding well on a big park at The Snow Centre!
Callum's favourite trick...
My favourite trick would be a Pre safety grab 360 or 7 tweak mute, simple!
Callum's Top Tip...
'It is better to fail in originality than to succeed in imitation!' – Basically if you are looking to get into freestyle skiing, make sure you add your own flair to a trick and go your own way, it is a 'free' sport after all!